04.12.17
Making Connections Shenzhen
Making Connections
We recently sent one of our members to Shenzhen as part of our maker exchange with Chaihuo in Shenzhen. Here Joris gives us a roundup of his trip!
Recently I was granted the opportunity to take my work from London to Shenzhen to continue the Making Connections programme and explore the local innovation and startup scene for a month. In this blogpost you I will share my findings and experience after living and working in this vibrant hardware city for three weeks. This trip was part of the residency between Makerversity and Chaihuo makerspace to deepen the exchange between the two spaces and members.
Please feel free to get in touch with me via Joris.Lam@ultra-iot.com if you'd like to connect!
My background
I founded an IoT startup called ULTRA IoT which started at Makerversity Amsterdam and moved to Makerversity London over the summer. We create hardware for businesses and governments to monitor assets and environment and recently we started the development of our own open source rapid prototyping kit.
X.Factory
Besides connecting with local makers, startups and innovators, one of the goals of my trip was to boost product development of our prototyping kit. I exchanged my Makerversity membership for a few weeks for a membership at X.Factory, the makerspace owned by Seeed studio and the extension of Chaihuo makerspace. Where Makerversity supports a lot of startups and small to medium size businesses, you will find more individual makers or small teams of makers at X.Factory.
Despite X.Factory to have a smaller member base than most UK makerspaces because they apply a different model, I found the community to be incredible. The member base is a mix of local and international makers. The members here are labeled 'maker pro', despite not always having a clear business model from the start, the makers you find here do generally work on more advanced projects or are starting to take their work commercial. The group WeChat(Chinese Whatsapp) channel is buzzing 24/7 and everyone is extremely willing to help and share knowledge and skills. The same holds for the team at X.Factory which consists of an awesome and helpful crew who have helped me with everything from getting a Chinese SIM card to ordering parts online.
Hardware development in Shenzhen
Shenzhen's hardware scene and electronics markets have reached mythical status in the European hardware scene. In short, I found it in part to be true, in part to be hype. First of all, the hardware scene is vibrant. There are great accelerators, makerspaces and events that draw a mixed crowd of local and international hardware creators to this city.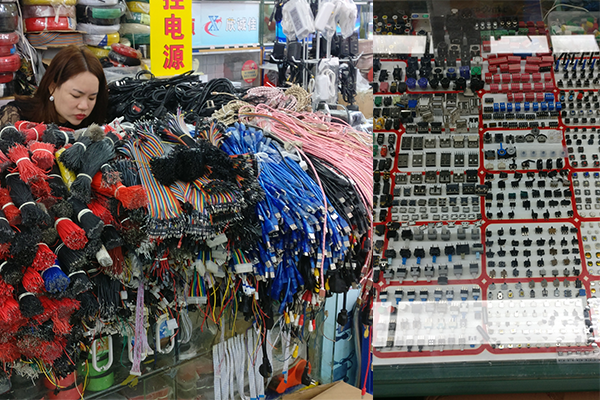 Second of all, because many of the components and parts are made here it is quick and cheap to source components and prototypes. However, I also found some restraints to the local ecosystem for someone like me just coming over here for the first time to set up shop. Sourcing of parts on the market is great, but only if specifications don't matter that much.
The world-famous Huaqianbei market is an incredible place to shop for parts, but when looking for a specific part to meet certain specifications, dimensions or tolerances it is not extremely useful to spend hours browsing vendor booths with every variation being produced by the factories, especially since most vendors mainly speak Chinese.
The real value comes from finding vendors of parts you need and adding them on WeChat. Because of WeChat's built-in translation function, it is very easy for vendors to translate your English messages to Chinese, and from there on talking specs is a breeze and the speed and price with which components get to you is unparalleled.
For example, I had been searching for a Li-ion battery that fits exactly into one of our enclosures, which has been a complete nightmare in the UK ordering many different kinds for review. When I found a vendor who's selection of batteries looked solid I sent her some specs that evening via WeChat and the next day fresh samples arrived at the office for just a few dollars with the possibility to order 100 pieces straight from the factory at an even better price.
In my experience the speed and benefit of Shenzhen comes from the network of vendors and guys who knows someone who knows someone to get what you need, fast. Huaqianbei's function as a market to buy goods is being replaced by e-commerce and it is slowly turning into a tech-tourist attraction, but as a place to meet suppliers and get connected with the back-end of manufacturing it is incredibly valuable.
The same holds for makerspaces and its members. Just the incredible wealth of machines and resources are useless without the community members helping you navigate the Chinese interface of the ultra-precise laser cutter. And the knowledge about vendors, prices and new discoveries are eagerly shared within the communities. You can not do Shenzhen in isolation, a strong community is key, and a makerspace like X.Factory brings just that.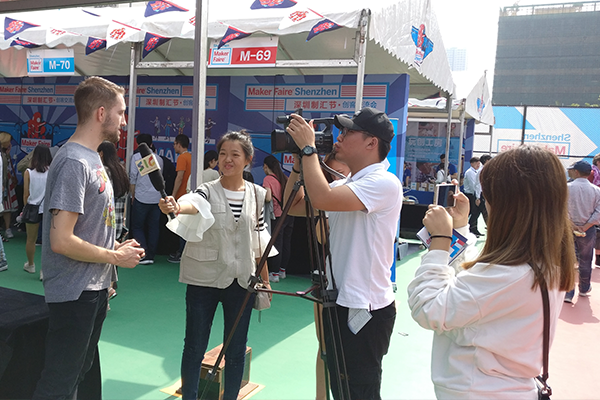 After Shenzhen
After my experience in Shenzhen I see this city and the makerspaces here as a valuable place to make hardware sprints when working on the next iteration of a product.
After showing the prototyping kit at the makerspace and explaining how the kit can be made, I am going to create a step-by-step guide to create the open source hardware locally. I very much look forward to seeing if and how local makers get along with building the kit.
If in doubt where to start when coming to Shenzhen, start at a local makerspace to get your feet on the ground and your WeChat filled with useful people.